Ocuvite Adult 50+, 150 Soft Gels
Free shipping
Estimated delivery: 3-7 days
Features:
Eye Vitamin and Mineral Supplement with Lutein, Zeaxanthin and Omega-3
One Per Day MiniGel
Specifications:
Brand: Bausch + Lomb
Quantity: 150 Softgels
Supplement Form: Softgel
Product Details: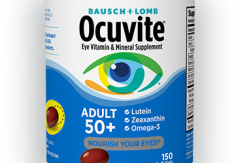 20 Minutes
For every 20 minutes of screen time or paperwork, give your eyes a rest.
20 Feet
Stare at something at least 20 feet away.
20 Seconds
Stare at least 20 seconds to engage your distance vision and ease eye strain.