THE GREAT AMERICAN PANCAKE COMPANY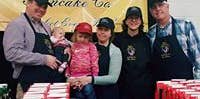 About
The Great American Pancake Company
Based in Cashton, Wisconsin, USA.
With operations now based near Cashton, Wisconsin, The Great American Pancake Company has been family owned and operated since 2003. Local residents Garrick Olerud and his mother, Jan Hesson, along with their spouses, Kassi Olerud and Mark Blackbourn, purchased the company and set up operations outside of Cashton in February 2017. A commercial kitchen was constructed in Jan and Mark's home keeping the production literally, "in house."
We pride ourselves in purchasing high-end ingredients for our recipes which continue to keep the taste and quality of our mixes a success in the pancake/waffle market. Ten varieties are offered year-round, including our signature varieties of Cinnamon, Angel Cakes, Buttermilk and Brown Sugar and Oatmeal. In the fall of the year, we offer Cider Cakes to celebrate the apple bounty. The Great American Pancake Company loves to bring the family together enjoying quality time along with our delicious pancake/waffle mixes.