SOSIE DESIGNS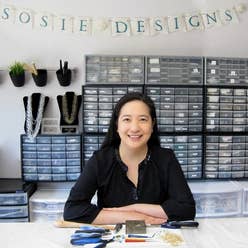 About
Sosie Designs
Based in San Jose, CA, USA.
Lovingly hand-crafted by self-taught jewelry artist Sonia "Sosie" Schimke, these one-of-a-kind pieces add the perfect finishing touches to your wardrobe.
Focusing on quality and care, Sosie combines unexpected elements with intricate detail, adding grace and glamour to your collection. Featuring only the finest of gems, sourced locally and abroad, her artisan pieces are classic in style, yet modern in design - making them perfect for all occasions.
With a sparkle of Swarovski Crystals, a pinch of pearls, a splash of chalcedony and a balanced selection of precious metals and gemstones, the Sosie Designs range includes earrings, necklaces, bracelets and rings.
A one-time hobby, Sosie began selling her designs at a craft fair in 2008. Years later, her stunning jewelry is available in boutiques, gift shops and galleries across the US.
Created in her sunny studio in San Jose, California, Sosie draws inspiration from the world around her as well as the smiles of her happy customers.