LESLEY ELIZABETH, INC.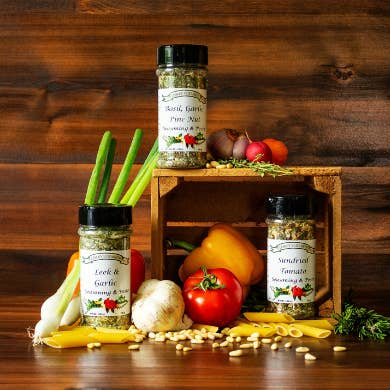 About
Lesley Elizabeth, Inc
Based in Lapeer, Michigan, USA. 
Named for our founder, Lesley Elizabeth (a.k.a. Lizzie), whose love of cooking created our company's legacy of flavor. Born in Northern England, Lizzie's first memory of food was helping her grandmother shell peas while the family faced food shortages. After the war, the family traveled in the summer to the Mediterranean Coast in the South of France. Even today, Lizzie tells the story, with eyes sparkling, of her childhood summers- air laden with rosemary and lavender and delicious family meals featuring savory pasta and rice.
Her love of nurturing people through healthy and flavorful food led her to developing recipes that were quick and delicious. She founded the company in 1991, to offer her custom blended oils, spices and mixes to people longing for flavor without hours of chopping and prep work in the kitchen.
Today our products include over 70 varieties of versatile, seasoned oils, seasoning blends, seasoned salts, fruit balsamic vinegar, and fruit flavored sugars as well as our savory sugars. All products are certified kosher by Kosher Michigan, are Vegetarian, Vegan, and all-natural. We have a vast selection of products that are fully planted based as well.
We are in the business to serve you, our customers, with the highest quality product in the industry. Our commitment to personal customer service is paramount.