BRITTLE BROTHERS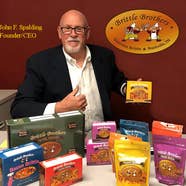 About
Brittle Brothers
Based in Goodlettsville, Tennessee, USA.
Brittle Brothers Many years ago, John Spalding had a hankering for some good old-fashioned peanut brittle, like his Mother, and his Grandmother, used to make. Unfortunately, after searching high & low for some quality brittle, all he could find was the cheap stuff – you know, peanut brittle that is all brittle and no nuts!!! Frustrated in not being able to find any "quality" brittle and choosing not to break his teeth on the low-end stuff, John decided it was time to make his own. In 1985, John F. Spalding dusted off Great-Grandma Spalding's old-fashioned peanut brittle recipe from the 1860's and went to work.
After years of "tweaking and refining" his recipe, John discovered that by reducing the amount of sugar and corn syrup in his brittle, while at the same time increasing the number of nuts in his recipe  he could produce the most delicious gourmet brittles ever made! John's gourmet brittle had all of the nut flavor that he craved, with just the right touch of sweetness added in. And so, John was a very happy man and could now sit back & enjoy the World's Most Delicious Brittle any time he wanted. And now, so can you!!!
The Brittle Brothers Gourmet Brittle Company was officially launched in 2007...just so you and your family could enjoy the most delicious gourmet brittle's on earth!